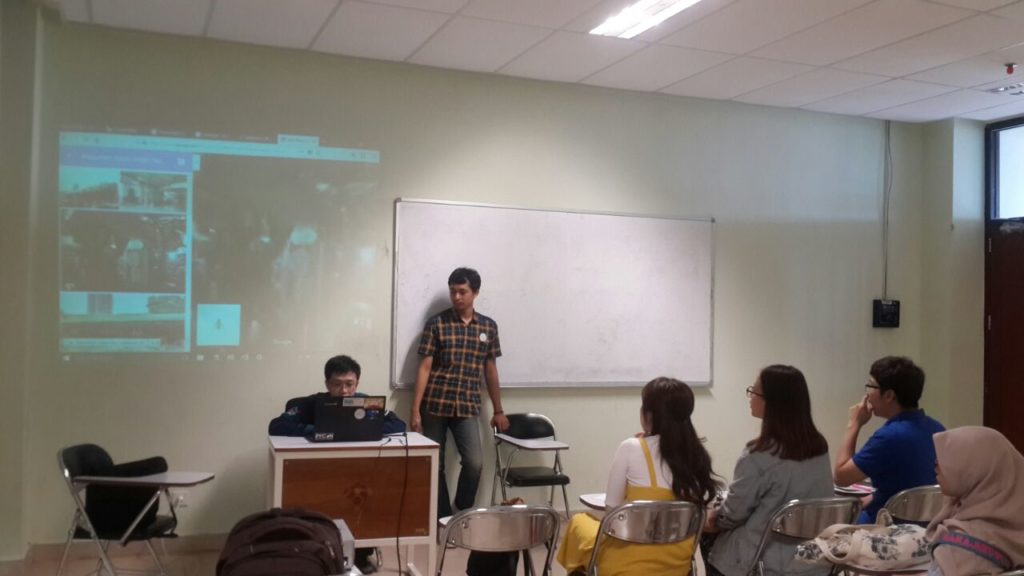 Wednesday (24/1) It was the third day for Korean and Philippines students in PENS. There are some internship projects should be done by these students. Korean students should join the Bahasa Indonesia class with volunteers and should make their documentary video during internship exchange in PENS. While the Philippines students should join the project supervised by Dr. Ir. Anang Tjahjono, M.T. in one of the labs of Industrial Electronics Engineering study program.
Bahasa Indonesia class was held in one of the classrooms in Pascasarjana PENS building, conducted by PICO volunteers. They taught about how to survive in Surabaya for foreign students. The volunteers shared their knowledge about food, groceries store, and food delivery that can be ordered in Surabaya. Fast food restaurants (such as KFC and McDonald's), food stalls around campus (PENS canteen and TMB), and food that can be ordered via Go-jek application (eg: Ayam Nelongso, Ayam Geprek, Platter, and others). Beside that, the volunteers also recommended the food that they must try while in Surabaya, such as Terang Bulan and Ayam Geprek. Because both foods have sweet and spicy taste which will give special impression for them.
The foreign students are also introduced to the supermarkets located around campus and their homestay that can be reached in less than 10 minutes (such as Indomaret, Alfamart, Alfamidi, Sakinah, Superindo, and others). Since the place where they are staying right now does not allow the inhabitant to cook anything in their rooms, so they learnt about how to order food through Go-food with Go-jek application. The volunteers also taught about the special features of Go-jek applications such as finding the cheapest food and the nearest food. Next topic was a mall or a modern market located around the campus and their homestay that can be reached in less than 10 minutes. Such as the Galaxy Mall and East Coast Pakuwon city.
While joining Bahasa Indonesia class, Korean students were very enthusiast and have much curiosity. There were many questions given to the volunteers. They also would love to see you in the next agenda! – Rachmad /Aldilla