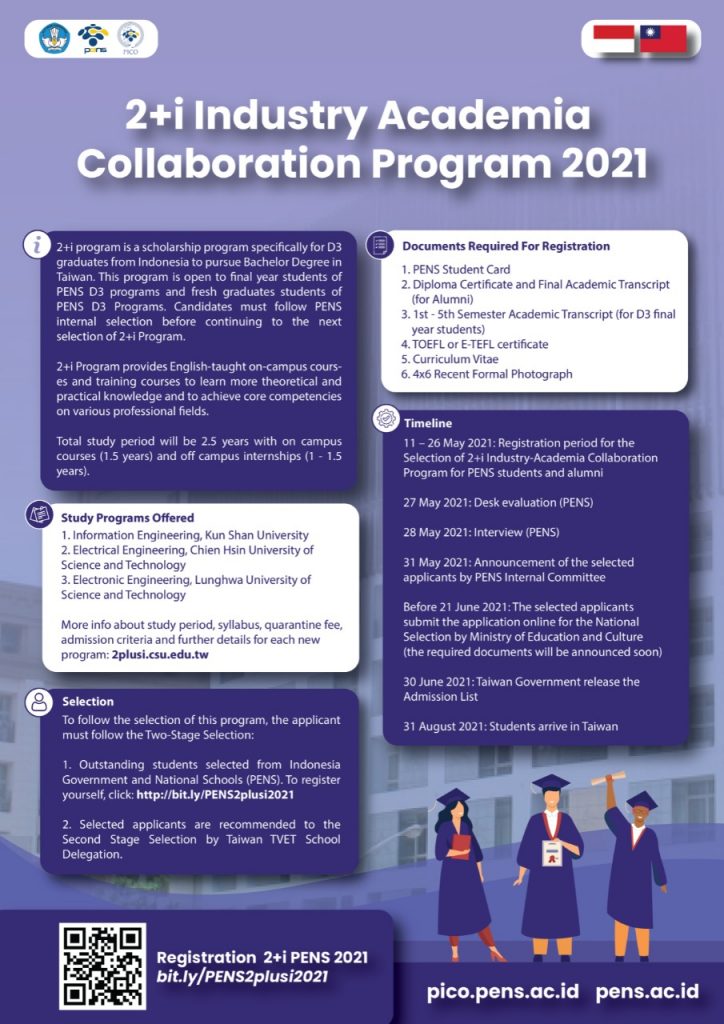 2+i program is a scholarship program specifically for D3 graduates from Indonesia to pursue Bachelor Degree in Taiwan.
This program is open to final year students of PENS D3 programs and fresh graduates students of PENS D3 Programs. Candidates must follow PENS internal selection before continuing to the next selection of 2+i Program.
2+i Program provides English-taught on-campus courses and training courses to learn more theoretical and practical knowledge and to achieve core competencies on various professional fields.
Total study period will be 2.5 years with on campus courses (1.5 years) and off campus internships (1 – 1.5 years).
Study Programs offered:
1. Information Engineering, Kun Shan University
2. Electrical Engineering, Chien Hsin University of Science and Technology
3. Electronic Engineering, Lunghwa University of Science and Technology
More info about study period, syllabus, quarantine fee, admission criteria and further details for each new program: 2plusi.csu.edu.tw
To follow the selection of this program, the applicant must follow the Two-Stage Selection:
1. Outstanding students selected from Indonesia Government and National Schools (PENS). To register yourself, click: http://bit.ly/PENS2plusi2021
2. Selected applicants are recommended to the Second Stage Selection by Taiwan TVET School Delegation.
Documents required for registration:
PENS Student Card
Diploma Certificate and Final Academic Transcript (for Alumni)
1st – 5th Semester Academic Transcript (for D3 final year students)
TOEFL or E-TEFL certificate
Curriculum Vitae
4×6 Recent Formal Photograph
Important Dates
11 – 26 May 2021: Registration period for the Selection of 2+i Industry-Academia Collaboration Program for PENS students and alumni
27 May 2021: Desk evaluation (PENS)
28 May 2021: Interview (PENS)
31 May 2021: Announcement of the selected applicants by PENS Internal Committee
Before 21 June 2021: The selected applicants submit the application online for the National Selection by Ministry of Education and Culture (the required documents will be announced soon)
30 June 2021: Taiwan Government release the Admission List
31 August 2021: Students arrive in Taiwan
For more information you can contact:
Politeknik Elektronika Negeri Surabaya
Jl. Raya ITS, Sukolilo, Surabaya 60111
Tel: 62 31 594 7280 | Fax +62 31 594 6114
WhatsApp Number: +62 811-3330-5005
Instagram : pico@pens.ac.id