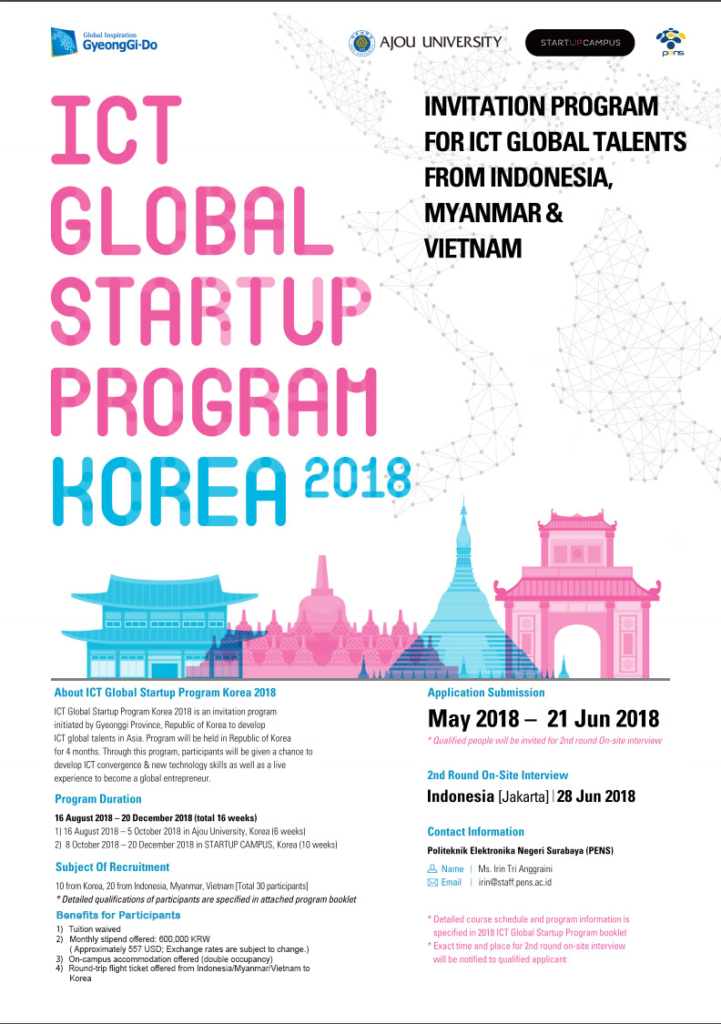 Institut Teknologi Bandung, Directorate of Innovation and Business Incubator University of Indonesia (DIIB UI) and Politeknik Elektronika Negeri Surabaya are the chosen institutions/organizations under Ministry of Research, Technology and Higher Education to participate in Global Information and Communication Technology (ICT) Startup Program.
About ICT Global Startup Program Korea 2018
ICT global startup program korea 2018 is an invitation program initiated by Gyeonggi Province, Republic of Korea to develop ICT global talent in Asia.
Program will be held in Republic of Korea for 4 months. Through this program participants will be given a chance to develop ICT covergence and new technology skills as well as a live experience to become global entrepreneur.
Program Duration
16 August 2018- 20 December 2018 (total 16 weeks)
1) 16 August 2018 – 5 October 2018 in Ajou University, Korea (6 Weeks)
2) 8 October 2018 – 20 December 2018 in STARTUP CAMPUS, Korea (10 weeks)
Subject of Recruitment
10 from Korea, 20 from Indonesia, Myanmar, Vietnam (Total 30 Participants)
(Detailed qualification of participants are specified in attached program booklet)
Benefits for Participants
1) Tuition waived
2) Monthly stipend offered: 600,000 KRW ( Approximately 557 USD; Exchange rates are subject to change.) ⁕
3) On-campus accommodation offered (double occupancy)
4) Round-trip flight ticket offered from Indonesia/Myanmar/Vietnam to Korea
*Application Submission *
May 2018-21 Jun 2018
(Qualified person will be invited for 2nd round On-Site interview)
2nd Round On-Site Interview
Indonesia [Jakarta] | 28 Jun 2018
– Detailed course schedule and program information is specified in 2018 ICT Global Startup Program booklet
– Exact time and place for 2nd round on-site interview will be notified to qualified applicant.
Download the Brochure and Application Form here.