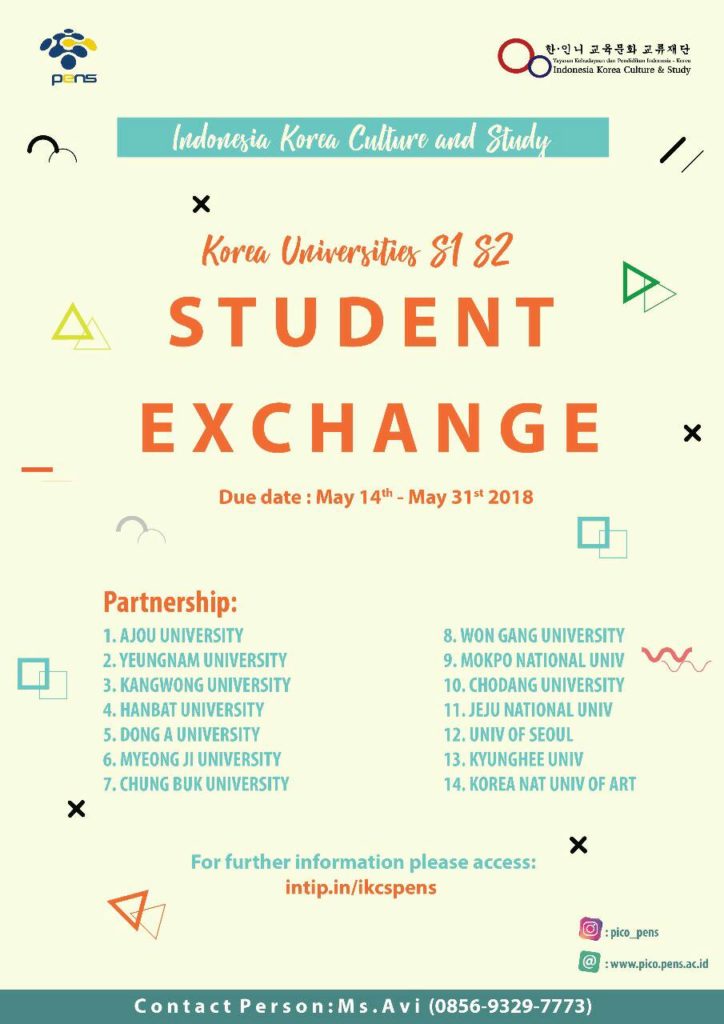 "Indonesia Korea Culture and Study"
Indonesia Korea Culture and Study (IKCS) offers a Korea Univerisities (Undergraduate  & Postgraduate) Student Exchange Programme 2018 & 2019.
Here is the list of IKCS partnership with Korean institutions:
AJOU UNIVERSITY
YEUNGNAM UNIVERSITY
KANGWONG UNIVERSITY
HANBAT UNIVERSITY
DONG A UNIVERSITY
MYEONG JI UNIVERSITY
WON GANG UNIVERSITY
MOKPO NATIONAL UNIV
CHODANG UNIVERSITY
JEJU NATIONAL UNIVERSITY
UNIVERSITY OF SEOUL
KYUNGHEE UNIVERSITY
CHUNG BUK UNIVERSITY
KOREA NATIONAL UNIVERSITY OF ART
Requirements
– PENS Student D3/D4 Minimum 5th Semester
– Student certificate from university and faculty (Translated in English)
– Copy of Students Card
– GPA Transcript 5th Semester (Translated in English)
– Recommendation Letter for Exchange Student Program 6 or 12 Months from University (Translated in English)
– SMA / SMK diploma and legalized copy (Translated in English and Notary stamp)
– Copy of Students Identity Card and Parents
– Copy of Family Card
– Copy of Birth Certificate (Translated in English and Notary stamp)
– Certificate of Employment and Income of Parents (Translated in English)
– Copy of Parents Bank Account 6 Months with minimum balance 100 Million IDR (Just until Visa Process done)
– Parents Bank Reference for Visa Apply
– Copy of SPT PPH latest 21 past year one of Parents
– Submit Passport minimum active period 1 year
– Medical Check-ups at hospitals designated by the Korean Embassy
– Fill out the Korean Language Class form
– Fill out the form from the destination Korean university
– Fill out the visa form
– Formal photo white background each 4 sheets size 3×4 and 4×6
– Complementary documents if applicable : minimum copy of TOPIK level 2, copy of minimum TOEFL score 550
– Fill out the parent's guarantee letter to follow the STUDENT EXCHANGE in Korea until done
Preparation Procedures
Students can choose Universities and Faculty and must suitable with Faculty in Indonesia
Students Register in ICK&S minimum 1 Semester for join program in next Semester in Korea
Students must join Preparation Language Class in ICK&S (Basic Korean Language is obligate)
Students must fulfill Documents and Cost regulation
Students don't allow reserve Air Fare by self
Students must fulfill all documents from Universities
Departure Procedures
Students Join Preparation Language Class in IKC&S
Students must submit Requirements and Documents before deadline
Documents Sent to Korea University
Students must join Medical Check up
Korea University send LOA (Letter of Acceptance)
IKC&S processing Visa D26 with completeness Students Document
Visa processing 7-10 work days in Embassy of Korea
Visa Approval
Booking Airplane Ticket
Preparation for departure
Student handover in Korea / pick up system from each university at Korean airport.
Student Exchange Benefit
✅Free Semester Tuition
✅Part Time Job Opportunty for Students who take 2 Semesters
✅International Class Dorminatory
✅Insurance Warranty
✅Get VISA Learning Visibility if Interested to Transfer Credit After Student Exchange Finish
✅ Credits can recognized in Origin University
✅ Certificate from Korean University
Cost Information
| | |
| --- | --- |
| 1. Registration | IDR 1.000.000,- (Invoice IKC&S) |
| 2. Language Class 3 Months | IDR 6.000.000,- (Invoice IKC&S) |
| 3. Visa | IDR 2.000.000,- (Invoice IKC&S) |
| 4. Administration Documents | IDR 5.000.000,- (Invoice IKC&S) |
| 5. Ticket One Way | IDR 8.000.000,- (Invoice IKC&S) |
|     Total | IDR 21.000.000,- |
Dormitory(Invoice from Korean University)
Module (Invoice from Korean University)
Insurance (Invoice from Korean University)
Note : Cost from Korean University has different rules and regulations.
How to Register ?
Submit Form and Documents to IKCS Branch Office Pasar Minggu. Start From May 14, 2018 until May 31, 2018.
Preparation Class for Korean Language starts from June 3rd, 2018 for 3 Months (3 Times in a Week) at 11 am until 2 pm.
For further information :
Contact : Ms. Avi
Email : ikcscommunity2015@gmail.com / aviharwati@gmail.com
Phone Number : 0856-9329-7773
Website : www.ikcs-indonesia.com
Instagram : ikcs_comm
Download the slide information here : Indonesia Korea Culture and Study (IKCS)