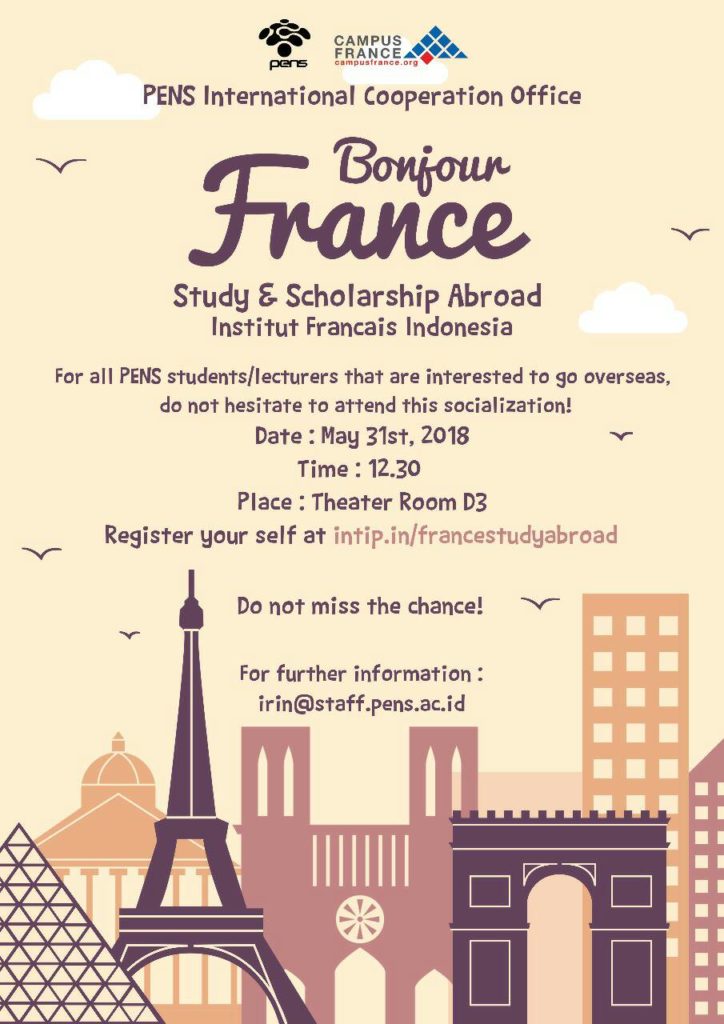 Due to the goal of PENS become the World Class Polytechnic, PENS International Cooperation Office (PICO) is about to held a socialization about "Study and Scholarship of France Government". This socialization aims to open students' minds about the importance of continuing higher studies abroad. One of which studies and various scholarships provided by the French government. This socialization is FREE and open to all PENS students and lecturers. All the presentation will be delivered by Institut Francais Indonesia.
Facilities for Participants :
Information on French courses
Information about tuition fees, living expenses, how to apply and student orientation at a french university
Information about Scholarships which provided by France Government, Indonesia Government, and Uni Europe Government
FREE Registration Fee *only for PENS Students and Lecturers
Schedule
The activities will be held on Thursday, May 31st, 2018 at Theater PENS (D3 Building, Ground Floor). At 12.30 PM.
All participants of both activities must fill the registration form in : intip.in/BonjourFrance
Before  May 30th, 2018
Contact Person
E-Mail : irin@pens.ac.id